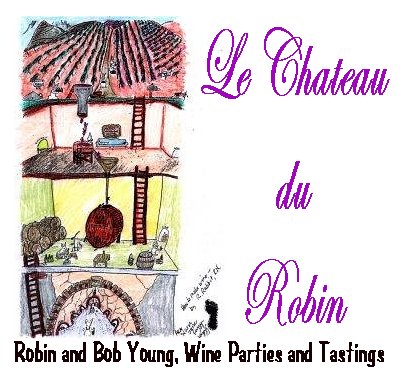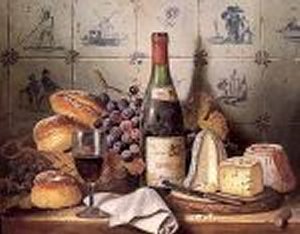 Wine Parties and Tastings
Robin had her first taste of appreciating wine in Germany in 1965 and she entered the wine industry in the early 1970's with Joel Peterson, wine maker at Ravenswood Winery, Sonoma, California. Together they learned their winemaking skills from Joe Swan, Joseph Swan Vineyards, Forrestville, Russian River, California. Their first release was in 1976 with a Ravenswood Zinfandel. (We still have a magnum of this wine!) Robin and Joel parted in 1978. In 1979, Robin made a Petit Syrah and a Cabernet Sauvignon. She was very active with the group from the wine trade at the Basque Hotel in San Francisco for 7 years with frequent guest dignataries such as Harry Waugh, Hugh Johnson and Frank Schoonmacher. She also had a successful "Women's Wine Tasting Group" in the San Francisco Bay Area for 5 years. She completed a course in Wine For Health at Oxford, Champagne and Bordeaux, meeting Professor Masquelet, author of the first 1979 Lancet research regarding red wine preventing Coronary Artery Disease in 1981. She and her daughter Marnie picked the vendage in Meursault during the rainy vintage of 1981.



| | | |
| --- | --- | --- |
| | Recently, Robin received her Wine Century Club Award, for tasting 100 or more varietals of wine. She and her husband, Bob, have and maintain an extensive personal wine cellar. Together they are members of the Treasure Valley Wine Society and are on the Board of Directors. In 2007 Bob was the Secretary and in 2008 he is the President. In 2006, Robin was a Wine Judge for the prestigious Idaho Wine Festival and in 2007 and 2008 has been in charge of the judges for the Idaho Wine Festival held each August in Boise. They are also the founders of and keep the extremely popular Treasure Valley Wine and Food Blog. | |


Together, Robin and Bob are presently making a Backyard Bubbly and a Merlot. They have already produced some Reisling. Robin has been an Oenophile and Tyrophile since 1972 paring wine and food and wine and cheeses of the world. See some of their recipes on this web site.

Contact us for your next private wine party or tasting Robin and Bob. Let us know your wine preferences for the Party/Tasting, the number of people attending and your Party Theme. We will then help you with your budget. Book a Tasting Party today!


---
This Web Site Was Created By RNR Designs© 2010, Boise, Idaho.
All Rights Reserved
This work and all pages on this web site are licensed under a
Creative Commons Attribution-Noncommercial-No Derivative Works 3.0 United States License
.